When it comes to women's clothing stores, our boutique is unlike any other!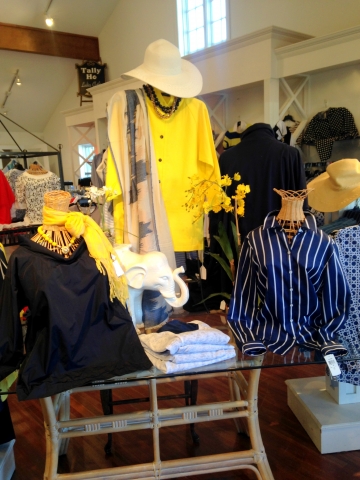 Women's clothing stores are plentiful in the Charlotte, North Carolina area, so with only so much shopping time, how do you know which ones to hit and which ones to skip? At Tally Ho Clothier, we assure you that our boutique stands out from other women's clothing stores, thanks to our exceptional selection of apparel and jewelry, as well as our superior customer service and commitment to helping every woman dress for success from head to toe.
Why should you visit our clothing store the next time you're out shopping? Here are just a few reasons why visiting our women's boutique is the perfect way to spend your next shopping trip:
We've been helping women dress fashionably with apparel from our boutique since 1985.
Our selection of apparel and jewelry is carefully curated to complement many different styles for women of all ages.
Our sales professionals act as styling consultants, so if you need help putting together an outfit for a special event or accessorizing an ensemble, we'd love to help.
With every purchase, we offer free alterations because the best and most flattering outfits are the ones that fit perfectly.
We update our collections every season and receive new merchandise daily, so we continue to offer the latest styles.
When it comes to
women's clothing stores
, our boutique is unlike any other in the Charlotte area. You'll find a range of styles from young contemporary to sophisticated. Whether you are looking for additions to your wardrobe, compiling a new wardrobe for that new job, or looking for the perfect style for a special event, you can rest assured that you'll find it at our unique boutique. Our knowledgeable staff takes pleasure in helping our customers put together a seasonal wardrobe, stylish clothing for an upcoming vacation, new clothes for heading back to school, or clothing for any other opportunity that has you looking at your closet feeling frustrated because what is there doesn't come close to meeting the challenge. Our goal is to make you feel more confident as you strike out on your new endeavor or experience. Of course, our selection of everyday pants and tunics is perfect for your day off and other casual activities. We can also help you select the perfect gift for someone special to you.
You will find that every visit to see us provides a new discovery. Our buyers work hard to find the best quality and designs that are both stylish and well-crafted. We understand that when you find the perfect dress or other items, you want them to last long enough to fully enjoy. We will also assist you with accessorizing your outfits with scarves and jewelry.

Visit our store for the latest trends!
We have fabulous choices for day-into-evening clothing.
We have clothing that's perfect for the young contemporary, the sophisticated woman, and everyone in between
The clothing selection is lovely.
"So happy I finally went inside this gem! The clothing selection is lovely, with something for any occasion!! Pleasantly surprised we have this in Gastonia!"
★★★★★ Romona Harris
Visit us
at Tally Ho Clothier today to discover what we have to offer and to revamp your wardrobe with a few new stylish, stunning pieces. We are confident you won't be disappointed in what you find in our selection of fabulous choices for day, evening, and special occasion attire. Check back often for the latest styles you might not find at other women's clothing stores in the Charlotte area.
---
At Tally Ho Clothier, we are proud to be one of the women's clothing stores serving residents of Charlotte, Gastonia, Huntersville, Mooresville, Denver, Davidson, and Lincolnton, North Carolina, as well as Spartanburg and York, South Carolina.
Similar Services We Offer: