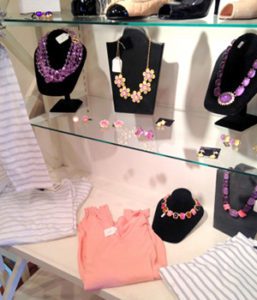 Here a Tally Ho Clothier in Gastonia, North Carolina, we take the needs of every customer seriously. We want every woman who leaves our store with a piece of women's jewelry and clothing to feel like she has found a great new way to express herself from the inside out. Our associates at our store are excited to help you discover a style that is uniquely yours. We want you to feel confident (whether you have selected an everyday pair of slacks or some evening wear and some women's jewelry to go with it) that when you put your selections on again you're going to feel even more at home in them than when you first tried them on in our store.
We offer free alterations on any purchase. Do you realize how amazing this is in this day and age of cookie-cutter fashion? Alterations can transform everyday style into celebrity-like style. You will find that between your personally fitted clothing (hand-selected from New York by our owner) plus our beautiful collection of women's jewelry and accessories (bracelets, necklaces, earrings, scarves, and handbags) you will feel radiant and really like the best version of yourself.
We emphasize catering to you as our customer. We see any customer of any age as special. Don't feel like you can't wear beautiful women's jewelry because you haven't discovered your own style for 2020 yet. Our specialties include being fashion consultants for any season, formality, or special occasion. Visit our store today!