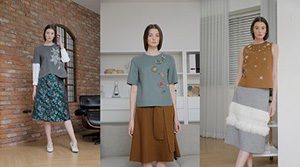 If you are looking for a chic shopping destination, you may need to look no further. We believe you'll have the kind of experience from our clothing store here at Tally Ho Clothier that you thought was only available in the movies. Not only does our clothing store owner travel to New York to purchase clothes for our clothing store several times each year, but each associate is also a fashion consultant at your disposal.
If you want personal attention, current fashion trends, and a second opinion, we are your one-stop shop for fashion excellence. We cater to you as our customer so thoroughly that we are excited to make alterations to your purchases for free so that you feel like the clothes you purchase from us at Tally Ho Clothier were made just for you. This is not just a clothing store. We are a tradition. We have been open for over 30 years and some of our customers have been returning again and again to our store in Gastonia throughout these decades for the shopping experience many simply still dream about.
If you are visiting the area or are just looking for a new place to revitalize your shopping, we are here to help. We know fashion trends for seasons, occasions, and various destinations. We'll make sure you feel as great in your new clothes once your trip ends as you did while you were here visiting Charlotte and our special clothing store here. We'd like to welcome you to the one-of-kind service every vacationer or clothes shopper deserves at Tally Ho Clothier.