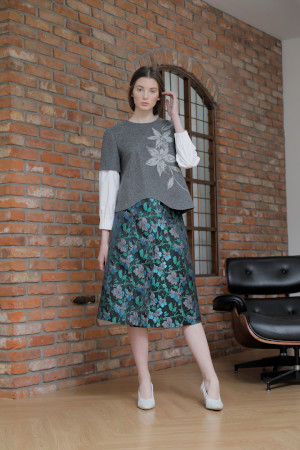 When it comes to the wardrobe of a working professional, many times we choose safe, professional-looking neutrals time and time again. Now, there's nothing wrong with a good, solid neutral piece that you can wear with many different options! However, sometimes we get a little tired of black, gray, and navy neutrals and want to add a little color to our outfits . . . a little pizazz and personality! The great thing about the color trends for women's apparel this year is that there are some great colors that you can mix and match with many of the pieces that you already have.
The current color trends for women's apparel are very light, very feminine and have a sense of airy breeziness to them. With light fabrics, these colors seem to float around while also making an impact on your outfit. Colors like lavender, sage green, sky blue, and rosy pinks are very on-trend and can be added to your women's apparel in many different ways. Whether you mix these colors with your existing neutrals for a feminine touch in your business professional wardrobe or choose an entire outfit from one of these colors, you'll love the feeling of light and airy femininity.
On the flip side of light pastels, this year's color trends also incorporate a touch of boldness. With lemon yellow and tomato red, you can use these colors as an accent piece with jewelry, a bold lip color, scarf or other accessory. No matter how you choose to incorporate these colors into your women's apparel, you'll enjoy the pops of color you get to showcase!
If you'd like to know more about how to add the current color trends into your wardrobe, professional or casual, we would love to help here at Tally Ho Clothier! Come see us today for assistance with your women's apparel.