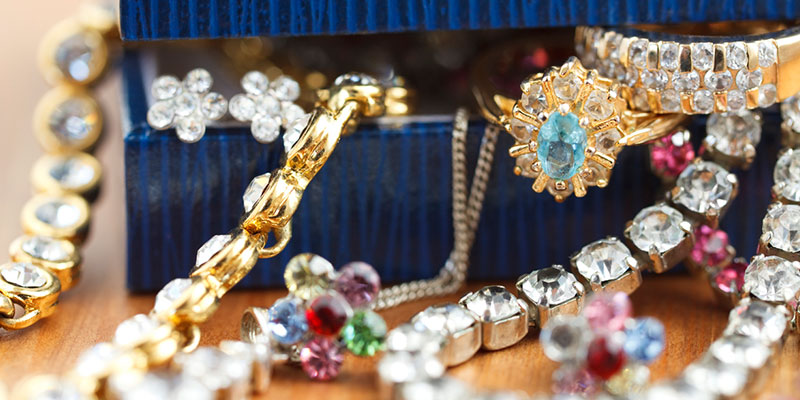 When it comes to women's jewelry, there are many options to choose from, not only in terms of the type of piece, but also in terms of what broader category or tier you're looking for. Women's jewelry can generally be separated into three basic tiers, based on the materials used and the level of craftsmanship involved. To help you make the ideal selection for your tastes and budget, in this article, our team at Tally Ho Clothier will go over what characterizes each of these tiers.
Fashion or Costume Jewelry- The most affordable category of women's jewelry is typically referred to as fashion or costume jewelry. As the name suggests, this type of jewelry is generally made and worn to accessorize a particular outfit, and so the quality of materials matters less than the color, sparkle, and overall effect. Fashion jewelry is often made of base metals, simulated stones, or even leather or textiles. If fashion jewelry is what you're after, we at Tally Ho Clothier can help you pick out the ideal piece to complete any outfit.
Semi-Fine Jewelry- The next step up in women's jewelry is what some refer to as semi-fine. Semi-fine jewelry is characterized by the use of genuine, but semi-precious or artificially enhanced, gemstones, such as lab-created opals. In addition, semi-fine jewelry is often gold-filled or -plated, or made of gold vermeil rather than the solid metal.
Fine Jewelry- The final tier of women's jewelry is known as fine jewelry, which is made of solid precious metals like gold, silver, or platinum, and uses genuine precious stones like diamonds, rubies, sapphires, etc. Naturally, these pieces are more of an investment, but command all the more attention for them.
We at Tally Ho Clothier hope that this information has been helpful. If you are interested in our women's jewelry, we encourage you to stop by our boutique today to check out our selection.