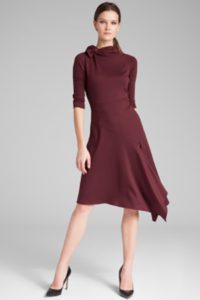 If you have ever traveled to a professional event, like at the local conference center here in Charlotte, you know that the professional dress code (even business casual) by day certainly looks different than casual for the business dinners at night. You want to make sure you are comfortable within the group of your professional peers and put your best foot forward by remembering to come prepared with a couple appropriate cocktail dresses.
While slacks may be perfectly normal business casual daywear, you'll find that people tend to clean up just a little better for the business meet and greets later in the evening after the conferencing is over for the day and full on networking has begun. Many of these dinners will be hosted by your clients or those for whom you are a client. Some will be hosted by potential business partners or even alma maters. You'll find that most of the women in attendance will take the opportunity to pull out a cocktail dress for the occasion.
Whoever the host, you'll want to look your best and feel comfortable while also fancy and professional for the evening. Our selection of cocktail dresses will offer party dresses not only for your own nights out on the town, but keep you prepared for evening business meetings that may pop up for you sooner than you think. If you already forgot your cocktail dress, swing on by and we'll help you prepare for your evening networking rather than letting you resort to wearing daywear for your dining and networking in the evenings during your stay.