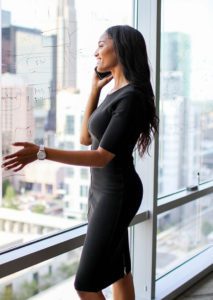 Here at Tally Ho Clothier, we want to help you build a wardrobe that works for any occasion. Whether you are building a professional wardrobe for the first time or refreshing your existing one, it's a good idea to have a list of essentials in mind before you start shopping. To help you make your wardrobe more complete, in this article, we will go over three must-have pieces of women's apparel for a well-stocked closet.
Little Black Dress- If there's one item of essential women's apparel that you've heard of many times before, it's the little black dress. This type of garment is so frequently recommended that it's often referred to by initials alone, but those recommendations are well-founded. A little black dress is highly versatile and will see you suitably attired for a wide variety of events–we at Tally Ho Clothier recommend one with a conservative neckline and medium length for maximum flexibility.
Button-Up Shirt- Another staple in a complete wardrobe is a crisp button-up shirt. This piece of women's apparel is also highly versatile, looking equally stylish with a pair of jeans as it does with a pencil skirt. Whether you need to dress for a first date or a work event, a button-up shirt is a great choice.
Knee-Length Skirt- The third must-have piece of women's apparel that we will go over here is a classic knee-length skirt. Length is a big factor in what makes a skirt formal or casual, and a knee-length skirt strikes the right balance between the two to provide the most flexibility. A knee-length skirt is professional enough for the office, casual enough for a friendly get-together, and formal enough for an evening event.