The next time you're out shopping in Charlotte, stop by our local boutique for the latest fashions.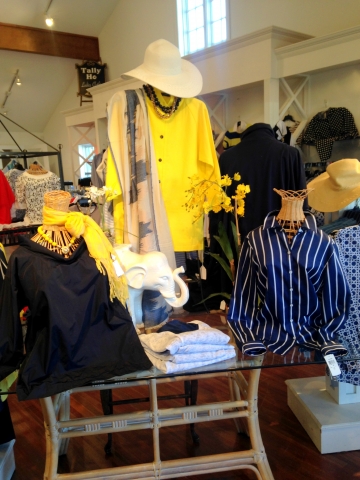 At Tally Ho Clothier, our local boutique has offered timeless style to the Charlotte, North Carolina area for over 30 years. Whether you're looking for the perfect outfit for an upcoming wedding or new pieces to add to your everyday wardrobe, our local boutique boasts a variety of styles for women of all ages, so no matter your age or size, you'll find exactly what you're looking for.
In addition to our fashion-forward styles and quality brands, what really sets our local boutique apart is our commitment to personalized service. Step through the doors of our boutique, and you'll be greeted by friendly faces who want to help you look and feel great from head to toe. They'll provide personalized style advice based on your wants and needs, so you walk out or doors with the perfect additions to your wardrobe.
Why You Should Shop at Our Local Boutique
Finding a local boutique that you enjoy makes a day or even a few hours spent shopping far more fun than hitting up an impersonal big box retailer. That is especially true when you come to see us at Tally Ho Clothier. We make certain you get the personal attention you deserve, making us a popular shopping haven that has stood the test of time.
Besides the helpful and welcoming environment that you'll experience at our local boutique, there are plenty of other reasons why you should shop with us. First of all, women have been coming to see us since 1985 for our sportswear collection, dresses, and accessories and are thrilled that we now offer day into evening clothing and special occasion attire. With our nearly 35 years of experience, it is safe to say you'll find what you are looking for.
A second reason to shop our local boutique is because we offer our customers free alterations and do special orders. You aren't likely to find those services at places that do not have our level of customer service. Finally, you can come visit us often because we continually update our inventory to the newest fashions, so you can be confident that you'll always look your best. Our sales associates serve as style consultants so you can get all the assistance you need to build or refresh your wardrobe from season to season. Whether you shop our local boutique for yourself or for a gift for that stylish woman on your gift list, you won't walk away disappointed!

Know that in addition to a wide selection of clothing, we also offer an exceptional selection of accessories. Finish off that perfect look with a new necklace, scarf, or hat, and get ready to make a statement every time you go out! Our in-store stylists would be more than happy to give you accessory advice for the perfect look.
Let our helpful staff guide your style!
For all of your clothing needs for every occasion, visit our local boutique for the latest styles. The next time you're out shopping in the Charlotte area, stop by and visit us at Tally Hot Clothier for an experience that won't disappoint. We look forward to having you shop with us!
---
At Tally Ho Clothier, our local boutique serves residents of Charlotte, Gastonia, Huntersville, Mooresville, Denver, Davidson, and Lincolnton, North Carolina, as well as Spartanburg and York, South Carolina.