When you are looking for an extraordinary shopping experience for women's jewelry in the Charlotte Metro area, turn to us at Tally Ho Clothier!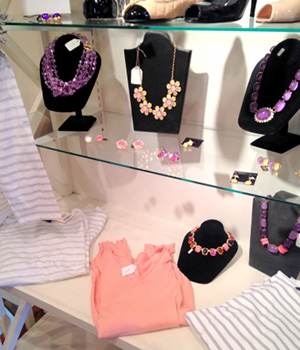 If you want your outfits to come alive, you must have the perfect accessories and women's jewelry to bring it all together. From modest to intense, you'll find what you need here at Tally Ho Clothier. Our dedicated, experienced styling professionals are on hand to help you select the ideal pieces and put them together with various outfits to match not only your style but also the occasion and season.
Our women's jewelry selection includes everything you need, such as chic and beautiful earrings, necklaces, and bracelets. Whether you are looking for a few pieces to round out your everyday wear or something special for a wedding, job interview, family event or anniversary dinner, you can be certain we have the perfect women's jewelry for you.
Not only do we have a great selection, but you'll also love the uncommon shopping experience that our long-term customers have come to know and anticipate. Whether you are a first-time customer or have been coming to us since we opened in 1985, you will receive our unparalleled support and service. If you already have a full grasp on what your design style is, or if you need some advice from our talented styling professionals, we are confident you'll love the results that our women's jewelry can make for your ensemble.
Let us help you take your next outfit from average to exceptional with the right women's jewelry and other accessories you'll find here at Tally Ho Clothier. We are conveniently located in the Charlotte, North Carolina metro area, bringing in customers from throughout North and South Carolina who desire an extraordinary shopping experience.
---
At Tally Ho Clothier, we offer women's jewelry at our clothing store, which serves residents of Charlotte, Gastonia, Huntersville, Mooresville, Denver, Davidson, and Lincolnton, North Carolina, as well as Spartanburg and York, South Carolina.